Swing into Spring with Butterflies and Bow Ties: A Family Dance Event.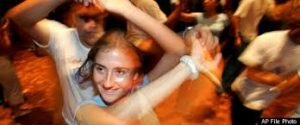 Spring has arrived and what a better way to celebrate the warm weather than with the Carolina Youth Dance Academy's (CYDA) Butterflies and Bow Ties on Sunday, March 31! This semi-formal event welcomes all family members, of all ages and skill levels. Beginner Swing, Salsa, and line dance lessons will be taught with a live DJ – along with a photo booth to capture the memories. The festivity will be held at the Elks Lodge in Raleigh from 2 pm – 5 pm. Appetizers and family-friendly drinks will be provided.
Note: If your family has more children than adults available to attend, CYDA in collaboration with the Carolina Dance Club (CDC) will provide friendly dance volunteers so everyone has a partner (available upon advanced request to CYDA/CDC).
Invited: Family Members
RSVP Required: By https://carolinadanceclub.com/learn-to-dance-2/store/Butterfly%E2%80%99s-and-Bow-Ties-Dance-Sunday-March-31st-p131834114
Location: Elks Lodge, 5538 Lead Mine Road, Raleigh, NC 27612
Time: 2 pm – 5 pm
Cost: $15/person
Dress: Spring-themed semi-formal – Dress to Impress!
Schedule:
1:30 pm – Doors Open
2:15 – 3 pm Swing Lesson
3 pm – 3:45 pm Open Swing Dancing and Line Dancing
3:45 – 4:15 Salsa Lesson
4:15 – 5 pm Open Swing and Salsa and Line Dancing
***Proceeds benefit the CYDA in helping to spread the incredible benefits of dance to young persons***
For Questions Cell: Debbie 919-274-4400   email: debbieramsey@musicanddance.com